Why Choose Cross Platform App Development
Well-made apps run well on all platforms with the right adjustments. Businesses choose to release their app on multiple platforms to reach more consumers and as an effort to market their brand to a new audience.
Cost/Time Savings
Making your app available in the Apple, Google Play and Windows stores is much easier than you think. We'll reuse the code from your initial app development and make the adjustment for your app to run smoothly and become compatible with the a different operating system. This cuts down on the time spent developing the app and saves you money. When you choose to create your app for cross platforms, you only have to design once, so there's no returning and developing an entirely different app years or months later. Everything is handled at one time, making it the most efficient way to reach all mobile users.
Uniformity
Cross platform mobile app development ensures that your application will possess the same look and feel across operating systems so you brand, content and messaging are consistent on any device. If your audience switches phones or access your app from different devices, you want them to know their way around without feeling disoriented. Developing for cross platform accessibility will give you the control you need to make the app transition seamlessly from one OS to the other. We develop your app with continuity in mind and screen the application on all devices to ensure that all your features, menus, navigation, branding, etc are equally represented from any device your users may choose.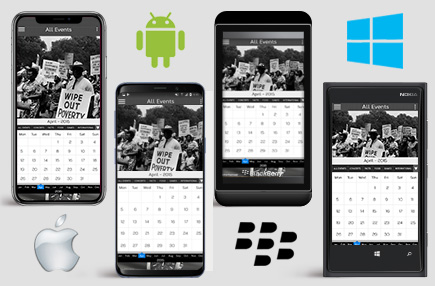 Maximize Your Audience
Building an app is an excellent way to expand your customer base. Many customers turn to apps to make their services or products more convenient for loyal consumers or to market their company to an entirely new audience. One of the biggest advantages to cross platform development is the ability to reach mobile users on each end of the OS spectrum. Your app can be listed in multiple apps stores and reach a larger base within your country or internationally. If you're hoping to cast a wide net or anticipate expanding in the future, it's a good idea to invest in cross platform development and keep your potential revenue flow as open as possible.
Reliable Structure
When you choose to develop on na cross platform framework, you're working with a simple, reliable structure for mobile app development. As experienced developers, we find the cross platform creation to be an easy process because of its focus on simple scripting language that's often extremely understandable for a professional developer and proven to function at a high level. The systems used to develop cross platform apps based their coding on HTML, CSS and JavaScript, the founding fathers of internet applications. You'll have extensive influence over your app and can trust that your mobile app will run efficiently and smoothly across devices. With this knowledge, you can leave the developing to use and enjoy the benefits of your new app.
NNC Infotech Private Limitedis recognized as a Top Digital Agency by
Sign up to get the latest on digital trends
Here at DecodeUp Technologies, we know it can be stressful for a new company to balance successful operations with implementing effective Web & Mobile Application Development tactics. That's why we're here to help! We're anLEARN MORE

With the second quarter of 2017 upon us, and great speculation over what the year has in store for SEO, I have decided to write an article focused on the most important game changers in searchLEARN MORE

The beginning of every new year is the time for predictions. Let's be honest. Predictions are rarely about what's going to happen in the twelve next months but rather a list of things we'd likeLEARN MORE