Cigars Near Me is a search tool that locates cigar stores and provides customer reviews for retailers in the area. Users can post reviews and watch their feed social media-style. Their goal is to launch a major website in the spirit of leading social media companies like Facebook, Twitter and related sites.
When Information is Key
Finding the best cigar club with a glowing reputation and great service is difficult when you are traveling. How do you find the best cigar to smoke when you're in a new state or city? Cigars Near Me provides you with nearby cigar store information with details such as prices, services, cigar availability, catalogs, and more. Users also enjoy the benefits of trusted peer reviews and cigar brand information, so you can choose the best store near you everywhere you travel.

Scattered Data
When you're searching for a cigar store nearby, finding the exact location is key. Most consumers are active online, but there's no website that helps you see exactly what cigar shops are offered in your current location.
Lack of Physical Information
Even visiting a store in person can be a dead end when it comes to knowing what they carry or if they're a reputable seller and it's rarely feasible to visit each store to make a decision.
No Accurate Cigar Details
Finding the flavor and size of each cigar is not easy to find. Often it takes extensive searching or trial and error to determine.
Worldwide Virtual Towers
We created various algorithms to produce virtual towers around the world that collect stores information for us (Due to critical security reasons we cannot share more intimate details about this algorithm).
Created custom algorithm to collect information.
Virtually collects stores information.
Updates location information regularly.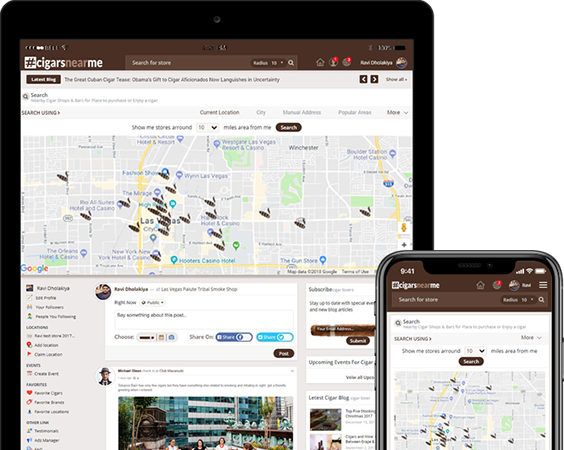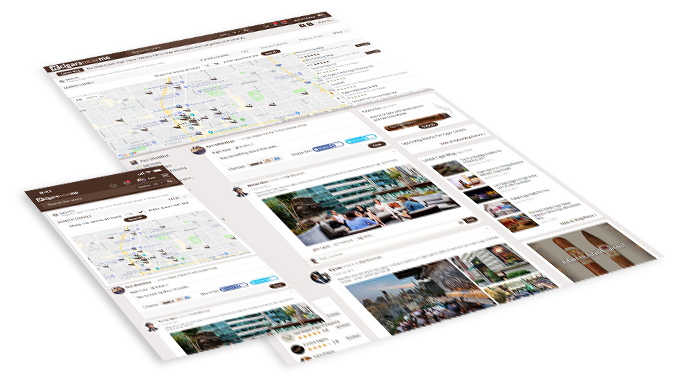 Dynamic Data Collection
To collect data for the cigar stores, we obtain information from consumers, store owners, previous store visitors or users who know the stores well. Our backend team verifies them and then publishes the information on the site.
Created algorithm to collect store details.
Backend team verification process.
Publish information.
Accurate Cigar Fact Aggregation
We have collected information about each cigars flavour, size and type from around the web and then filtered it via our algorithms to show accurate information for users.
Collect data from the web
Created algorithm to filter cigar details.
Present data to users
Focus on Efficiency
In light of competition with other social, high-performance sites, we have ensured that Cigars Near Me is efficient and accurate.
We use optimized contents to improve speed.
We use different types of API so large data runs smoothly.
Incorporate the best social sharing components throughout the site so users can share their experience.
The site features the latest digital technologies for an enhanced user experience.
Tested over different devices to ensure users can get better UI/UX results over any device.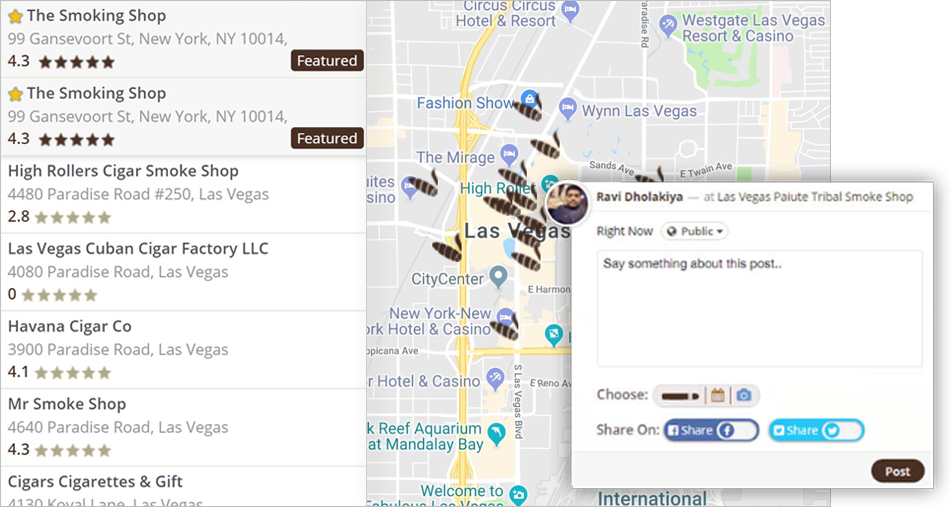 Sign up to get the latest on digital trends
Here at DecodeUp Technologies, we know it can be stressful for a new company to balance successful operations with implementing effective Web & Mobile Application Development tactics. That's why we're here to help! We're anLEARN MORE

With the second quarter of 2017 upon us, and great speculation over what the year has in store for SEO, I have decided to write an article focused on the most important game changers in searchLEARN MORE

The beginning of every new year is the time for predictions. Let's be honest. Predictions are rarely about what's going to happen in the twelve next months but rather a list of things we'd likeLEARN MORE